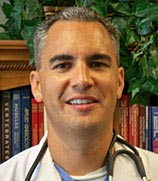 Dr. Aaron Richardet earned his Doctorate of Chiropractic from Logan Chiropractic College in 2000. As a licensed chiropractor, with licensure in North Carolina, Missouri, and Illinois, he has used his medical training and experience to treat scores of patients and help them find relief from their ailments.
His areas of expertise include spinal decompression, neurofeedback, peripheral neuropathy, and pain management, among others. Dr. Aaron Richardet's area of practice is one where patients receive non-invasive treatments for many of the common and major ailments they face. The routine chiropractic adjustments that he performs go beyond preventative care and are vital in keeping the patient physically and mentally healthy, balanced, and flexible.
Dr. Aaron Richardet possesses broad skills and comes with enough years of experience in recommending the best therapeutic and rehabilitation practices to his patients. The chiropractic care that patients receive at the hands of Dr. Aaron Richardet is a natural, drug-free, and safe method that promotes wellness in a holistic manner. His main goal is to restore your body's function to normalcy and avoid the occurrence of any further injuries, through his treatment method.
He believes in providing a personalized care and treatment plan for each of his patients. And to that end, he crafts the ideal treatment plan based on their individual needs. He has been helping patients find relief from the pain associated with spinal cord, arthritis, and other neuromuscular problems since 2000, by ensuring they receive the most effective treatment for relief from their symptoms. To make this possible he combines the best medical practice, hands-on technique, and state-of-the-art physiotherapy procedures.
Dr. Aaron Richardet is committed to his patients' overall health and wellness, hence, leaves no stone unturned in providing his patients the best possible care. The spinal adjustments and other advanced techniques he uses help patients balance their spinal column for optimal nervous system function, and patients are known to report less pain, better stamina, more energy, and overall better health post their sessions.
He takes time to get the patient's complete medical history, conduct a thorough physical examination, reviews their health history, diet, exercise, and other lifestyle habits to determine the root cause of the issue, and come up with the most effective individualized treatment plan. While stress, injuries, and age are bound to come your way one way or the other, having an experienced and skilled medical expert like Dr. Aaron Richardet in your corner ensures you are on your path to quick and effective recovery and healing.